10.08.2017
Beach volleyball players from Aktau become winners of the third round of the Kazakhstan Youth Championship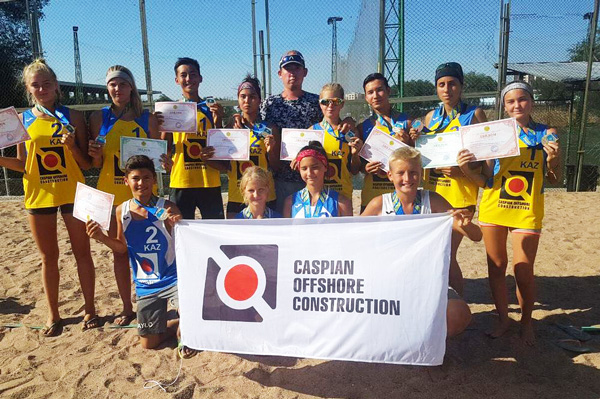 The "Caspian" Volleyball Club trainees became the overall champions of the competitions in all age categories.
Nurlan Konilkos, the "Caspian" volleyball club coach, has reported on it.
Damir Lapov along with Darhan Amanzholov from the "Caspian-1" team became the gold medalists among the boys under 14 category...

In the under 16 category first place was taken by the "Caspian-3" team, players Klim Ryukhov and Ivaylo Todorov.

"Caspian" team Alena Chugainova and Dana Rubilko were the best among the girls in the under 16 category.

In the same category third place was won by Polina Kondrashina along with Valeria Ifraimova from the "Caspian-1" team.

The gold medal was won by Anastasia Ukolova and Dana Shingisova from the "Caspian-2" team participating in the under 14 category.

In the girls under 12 category, first place was won by Julia Rutskaya along with Julia Khristolyubova from the "Caspian-3" team.

The coach said the athletes would be preparing for a next round of the competitions starting tomorrow, August 10, in Almaty.

In the first round our athletes won a total of 11 medals, consisting of six gold , one silver and four bronze medals.

In the second round the Aktau athletes won five gold medals, two silver medals and the same quantity of bronze medals.