26.08.2017
Aktau team comes second at the RoK Sitting Volleyball Cup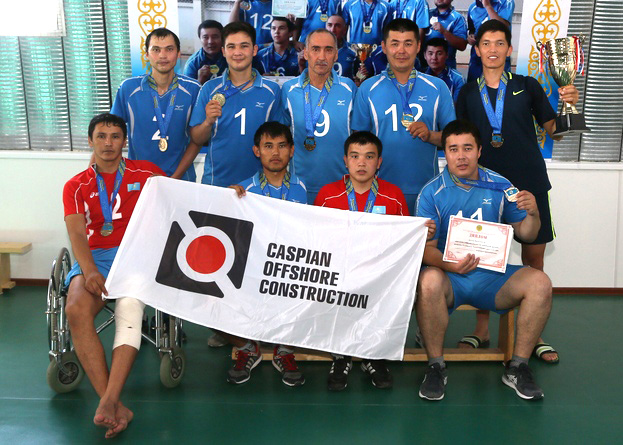 The Aktau team won silver medals at the RoK Sitting Volley Cup for athletes with lesions of the musculoskeletal system.
Teams from Aktobe, Kyzylorda, South Kazakhstan and West Kazakhstan regions, Kostanay, Zhanaozen and Aktau took part in this competition.
The team from Kyzylorda won the gold medal, with our townsmen coming second, Aktobe team won the bronze. RoK The competition was held in Aktau.
"In the first semi-final Kyzylorda athletes came through to the final easily winning the opponents from Aktobe by three goals.
In the semi-final our team beat Shymkent representatives by the score of 3:0.
In the struggle for the third place, Aktobe defeated Shymkent winning bronze.
In the final the team from Kyzylorda beat our by the score of 3:1", Nuraly Kulushov, a member of the team and Director of the Disabled Sports Club of Mangistau Region, stated.
The team from Aktau consisted of Karasay Lukpanov, Aman Klychbaev, Nurlybek Kuzhabekov, Ruslam Adzhataev, Kuralbek Seidov, Bauyrzhan Urazaliev, Erbolat Altaev, Gabit Nazarbekov and the on-the-field coach Nuraly Kulushov.
The competitions were held in the gym of the Disabled Sports Club in Aktau.
The competition was held with the support of the Ministry of Culture and Sport, the RoK Committee for Sport and the, Akimats of the region and city.
lada.kz